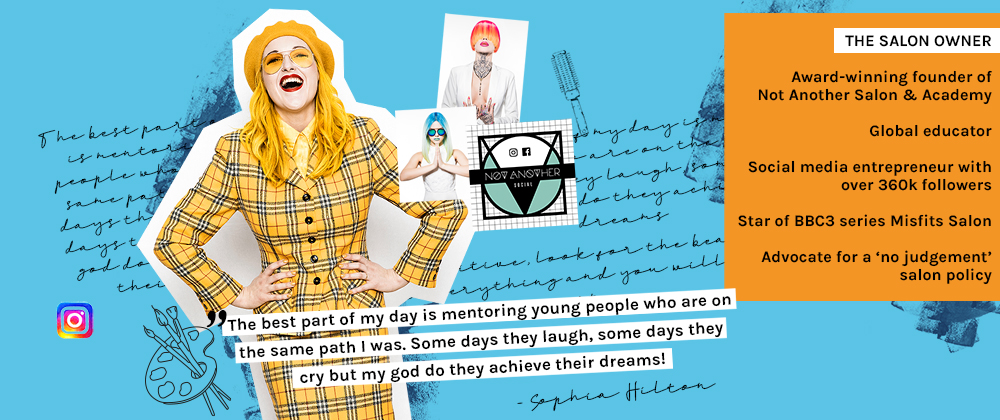 SOPHIA HILTON




My current job is... Owner of Not Another Salon and Academy. I also run a social media consultancy.

When I said I wanted to be a hairdresser, I was told... I was too clever to be a hairdresser!



My route into this world was… An NVQ apprenticeship up to Level 3 in my hometown of Blackpool. Then I was taken under the wing of a big salon in London to re-train me to the necessary high standards.


I love working in hair because... When you're doing hair, you're truly in the present.

The most important piece of advice has been… To understand that you can't have balance in every moment of your life. There are times when we have to put everything into one area for a long period only to get more balance somewhere else. Don't expect balance when you are trying to really succeed at something, there is time for play and rest and there is time to bust your balls!

If only parents knew that hairdressing… Was actually really well paid if you hit the high levels. If you work for the most reputable salons, re-invest in your training, you can be making as much as a doctor.


My mentor is... Sally Brooks, who has won British Hairdresser of the Year twice in consecutive years. I was already trained with basic college skills but what you begin to understand is that your qualification only covers the basics and after that you need to be under someone's wing for a few years while you really learn the job. I will be forever grateful to my mentor. It was so hard that period, but it made me.

It's never too late to become a hairdresser because… The best thing about doing it late is you will never look inexperienced. When you stand behind someone and you look a bit older, they instantly trust you.





The three hairdressers who inspire me most are... @iamginabianca a self-made genius teaching around the world. @geogiabellhair a mum of three from one of the poorest areas in Yorkshire who has grown her career to incredible heights without ever having the privilege of working under a big salon name. Proof anyone can make it. @benbrownhair has built up his social media following to give him a platform to teach all over the country and earn himself a fantastic living. Not only that but he's happy and doing what he loves every day. He's quickly become a hairdressing household name.


Want to get started? Your first step should be... To get an apprenticeship. Personally, I wouldn't go to college full time.

Make sure you… Do lots of models on your day off and practice on dolls heads at every opportunity. Don't EVER rely on your boss for ALL of your training. With YouTube and Instagram, 50 per cent of what you need can be done without relying on anyone at all. How cool is that?

I'm proud to be a hairdresser because... People think it's a dumb career yet I earn more money that anyone I've grown up with. I didn't go to university but I accelerated over everyone that did (cheekily sticks tongue out - and perhaps a middle finger…).
You're working with lots of people every day. Always remember that... Your vibe attracts your tribe. Be positive, look for the beauty in everything and you will find it.

My career highlight so far has been… Well, I've had a lot of key moments in the last few years but I was really proud of doing a presentation when I was only 24 in front of 4,000 hairdressers!

If it hadn't been for hair, I wouldn't have... Anything. I just love everything. Hair was just the thing I chose. I think if I had chosen an academic career I would have ended up in the middle of the pile, whereas because I'm creative and a little academic, I've been able to rise much further. However, I am dyslexic but that hasn't got in the way at all!

The best part of my day is… Mentoring young people who are on the same path I was. Some days they laugh, some days they cry but my God do they achieve their dreams!

---
SOPHIA'S TOP FIVE TIPS
≠ Talk to your parents about getting a little finanical support to help you. Treat this like university, where you would need a loan. If that's not possible you can totally do it without, I did. But planning ahead with your family rather than going crawling when you get into trouble is best!
≠ On that note... Sort out your spending habits, pronto. You are now a student. Only spend what you have and even if it's £10 per week, save your money. You always need back up. How horrid would it be if you had to abandon your dream for £100? I've seen it happen. Be sensible. Choose Primark, not Topshop! NEVER EVER take out payday loans.
≠ Birthdays and Christmas need to be about getting equipment. Scissors, brushes and combs should all be on the list. Invest in good stuff and yourself.
≠ The great thing about doing hairdressing is the ability to earn a little money on the side while you are training. Most students have to work for minimum wage in a bar or cafe to get by, but you can do your friends' hair for much better money than that and practice your skills at the same time!
≠ Work hard for your tips. The better you treat people, the better they will treat you.

Check these out: